The Women's Ministry of CABC hosts several fun fellowship events and service projects throughout the year for women to come together in a unique way as sisters in Christ. Here are a few we have planned for the coming year…
Upcoming Events
Chicks & Chatter
April 10 | 10:00am
Ladies of CABC are invited to enjoy a devotion, play some fun ice breaker games and just enjoy a time of fellowship together. Let's learn more about each other to know how to support and love on each other as sisters in Christ!
Look for more events coming this spring & summer!
Previous Events
Stock-up September | September 1-30
Campfire & Craft Night | October 2
Tender Care Banquet Viewing Party | October 13
Clothing Swap | November 7
Coffee, Connection & Love | January 30
Virtual Auction | February 18-20
Praise & Paint | March 2021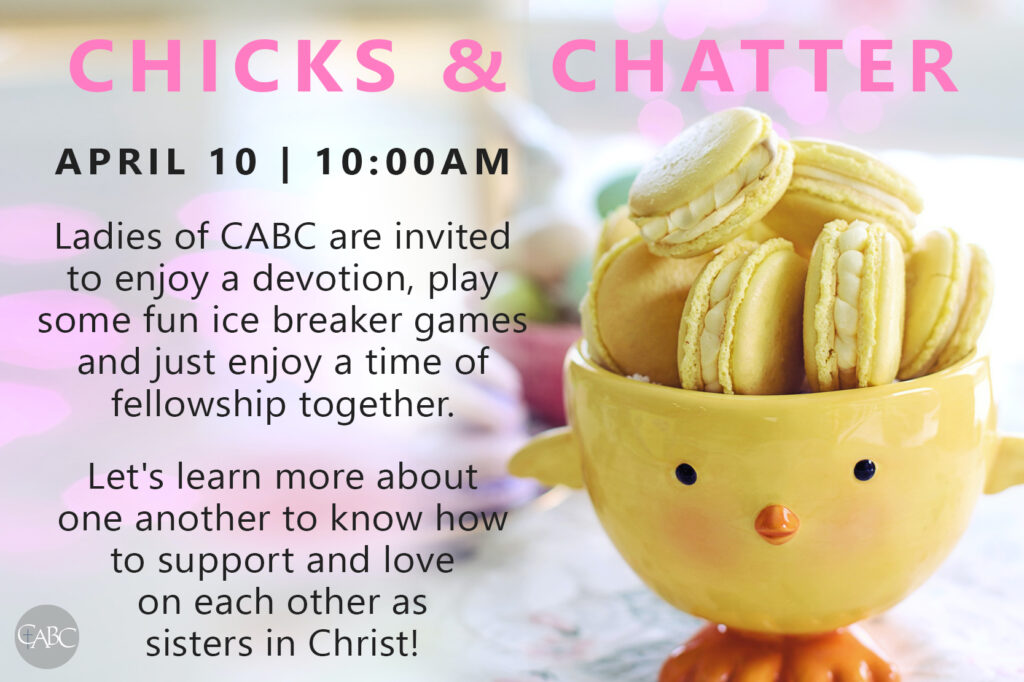 If you are interested in joining together with your sisters in Christ for a fun time of loving and supporting and getting to know each other more, join us! You can RSVP below or just show up that Saturday!
Women's Bible Study
Join a group of women together in study, discussion and fellowship as we seek to encourage, uplift, challenge and refill one another as sisters in Christ. This year's Bible study will be facilitated by Chris Thomas and continue through May 2021.
Where: Meeting place this first month will be dependent on group size and comfort (please RSVP or call the church if you plan to attend)
When: 3rd Thursday at 7:00pm
What: We will be focusing on the study "He Chose the Nails" from Max Lucado this year during our time together. Every gift from God reveals His love, but no gift reveals His love more than the gifts of the cross. Explore the many gifts that Christ provided to us at His crucifixion.
MOPS (Mothers of Preschoolers)
Designed for moms to relax, recharge and regroup, MOPS is a place you can come as you are to be encouraged, equipped, and developed as a woman, mother, and leader in Christ.
Click here for more information.
Who: Moms with children ages birth up through Kindergarten
Where: CABC Pulse
When: 2nd Sundays 2:30- 4:30pm & 4th Tuesdays 6:00-8:00pm
(Childcare is not available this year due to Covid restrictions)
245111
Women's Ministry Contact & RSVP