Join us for a fun time of service and blessing others at our annual Shoebox Packing Party!
Saturday, November 12, 2022 | 1:00 – 2:00pm
What is a Packing Party?
Instead of packing your shoebox alone, pack it with friends! We will be gathering donations of items to go into the shoeboxes leading up to the packing party. Then, on Saturday, November 12th from 1:00-2:00pm, we will spend time packing all the shoeboxes, learning more about Operation Christmas Child, and praying over the boxes we've put together.
We'll also have some fun time to fellowship and enjoy snacks and refreshments together. This is a great project for the whole family to enjoy serving together!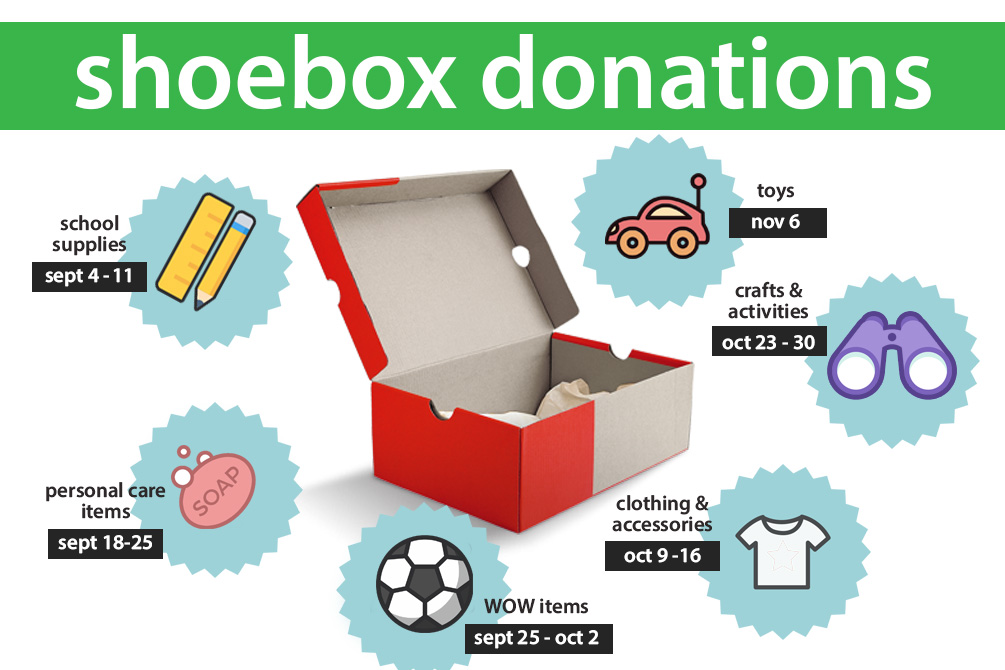 Items Still Needed
Donations need to be dropped off at CABC by Thursday, November 10
Small toys (toy cars, jump rope, yo-yo)

Crayons/markers
Pencil sharpeners
Pencils/colored pencils
Pens
Small notepad

Coloring book

Solar calculator

Combs & hair brushes

Stuffed animal

Small sewing kit or tool kit

Soap (non liquid)

Washcloths

Toothbrushes

Socks

Underwear

$9.00 donations (per shoebox) to help with shipping
Other Ways to Participate
If you would like to help with our packing party, but can't attend, f

eel free to purchase and drop off donations from the list above of items we will need in order to pack the boxes.

There are empty shoeboxes in the church gym that you can grab and fill up at any time. Bring them back on or before Sunday, November 13 for Shoebox Sunday!

Join our team headed to the OCC Distribution Center this year. See Brooke Arney or Pastor Josh for more details.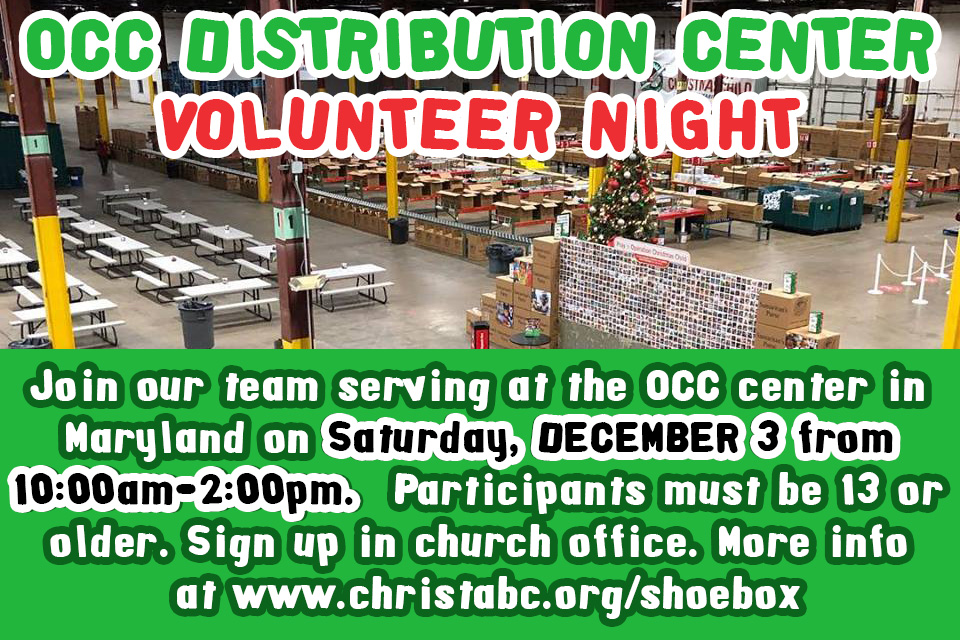 Help Us Reach Our Goal!
We are hoping to gather enough donations and items to pack 50 shoeboxes at our Packing Party.
Our total goal of shoeboxes from our Packing Party AND those completed and brought back for Shoebox Sunday is…
Will you help us?!