While we may not know everything during Covid-19, we do know we want to stay connected with you no matter what! Staff and leadership are working hard to continue to provide opportunities for all ages and social groups to interact, talk, learn and grow together wherever you are. Below is a summary of current opportunities for adults, youth and children to stay connected to each other and most importantly God's Word!
Sunday Worship Online & In Person
9:00am
You and your family are invited to join us in person or online every Sunday at 9:00am for a time of worship and God's Word. We have social distancing procedures in place and multiple venues available within the church to provide a safe and comfortable atmosphere for all to worship the Lord. If you are unable or uncomfortable joining us in person, our service will be streamed lived on
our YouTube channel
every Sunday at 9:00am on your phone, tablet or smart TV.
Adult Bible Study
Adults are invited to join together for a time of connection and God's Word each week at CABC.
Online Zoom options are being planned for those unable or uncomfortable attending in person at this time, so stay tuned for more details coming soon.
Young Adult Small Group
3rd Sundays 1:00pm
Calling all 18-35 year olds. The Trojaks are continuing to generously host monthly small group meetings at their welcoming home for any and all young adults who are interested in staying connected together. Whether you just graduated high school are aren't sure where you fit in, or if you're 30 and feel like a high schooler… we've got room for you!
If you'd like to join us, please connect with Pastor Josh or the church office. You can also
contact us
right here on our website for more information or if you need anything at this time!
Pulse Youth Connection Opportunities
Our main event is on Wednesdays. Our Pulse nights include exciting games, challenging messages, and time to hang out with other young believers. Masks are required and social distancing will be in place to protect our youth and leaders during this time. Connecting to God will not be changed as we seek to follow Jesus together. We will also be continuing to host our Youth Group on Zoom for those who are not in the building. (If things change and in person youth group is not allowed we will pivot to be on Zoom during the Wednesday times.)
Highway Kids Connection Opportunities
Highway Kids on Sunday mornings is officially back on Sunday mornings! Available for all 2 year olds (potty trained required) through 6th graders to continue to learn and grow in the love of Jesus every week. Covid guidelines and restrictions are followed from check-in to check-out. Masks or face shields are required for all children. If you are unable or uncomfortable joining us in person, you don't have to miss out! Online videos of the Gospel Project will continue to be posted every Saturday at 10am on our
YouTube channel
and
children's ministry page.
AWANA Wednesdays 6:25pm
AWANA is back in the building at CABC every Wednesday from 6:25 – 8:00pm. Groups and activities are designed to accommodate for Covid restrictions and comfortability for all. Masks or face shields are required for all students and volunteers. If you are still unable or uncomfortable to meet in person, lessons will be posted to our
YouTube channel
every week so you can follow along from home!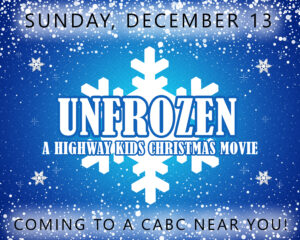 2020 Christmas Movie
Be sure to stay tuned for our first-ever Highway Kids Christmas Movie coming this December to a CABC near you! We are currently scouting out local actors and actresses to help us tell the story of "Unfrozen" and the birth of an incredible Savior into our world.
Connect with Miss Jess if you are interested in being a part of our cast and crew, and be sure to mark your calendars to attend the premiere showing on Sunday, December 13!
ONLINE RESOURCES: RightNow Media
No matter where you are, you can have access to thousands of Bible studies, devotionals, kid shows and other Christian content through our free library at RightNow Media.
No cost and unlimited access to resources and content to keep you connect and present in God's Word wherever you are! To learn more and to sign up for your
free
account
through CABC, check out more at
www.christabc.org/rightnow-media
.